Details
Free Shipping In India
Product Details
Brand Description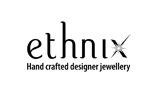 Ethnix Brand - Hand-crafted Designer Jewellery
With machine made ornaments taking over the entire jewellery industry, quite obviously handmade jewellery have sure seemed to fade away. However, recently people are waking up to the unusual jewellery that is crafted by artisans who work with their hands and not under any electrical influence or machinery. We, at Malabar Gold & Diamonds have introduced our Ethnic brand with innovative hand crafted designer jewellery that features an amazing collection of assortment of jewellery pieces. It is an initiative by us to keep this tradition alive through our Ethnix Brand, which will be a reminder of olden times when each piece of jewellery, be it a small earring or an intricate necklace were all masterpieces crafted by hand.This intricately crafted collection features necklaces, pendants, earrings and bangles in authentic designs.
The entire process from sketching to creating is a testament to the dedication of the craftsmen. While crafting the jewellery pieces a craftsmen adds a personal touch to it which further gives out an individualistic piece which cannot match to the outcome of much expensive and modern machines. The finesse and the style of the ornament, reflects the standard of the artisans expertise too.
Considerably, one of the most quintessential brand of Malabar Gold & Diamonds it does not come as a surprise that more and more buyers today prefer to purchase hand crafted jewellery. The poise of traditional craftsmanship and intricate designs is visible in every piece of ours, with meticulousness and graceful enamel work making them the most cherished pieces of artistic expression.We offer customized designs for those who aspire to be unique, and meticulously craft exclusive designs as per individual specifications in various colours and designs, often averaging over 200 skilled man-hours on a piece.The unparalleled craftsmanship and the hard work of our designers make Ethnix jewellery something to treasure forever.