Brides

of India
Brides of India
Designed by centuries. recreated by Malabar
India is a land of rich and varied cultures. Malabar Gold & Diamonds captures the essence of these varied and lavish Indian traditions and the jewellery specific to regions and these cultures, communicating to the people of this country that it can cater to all of them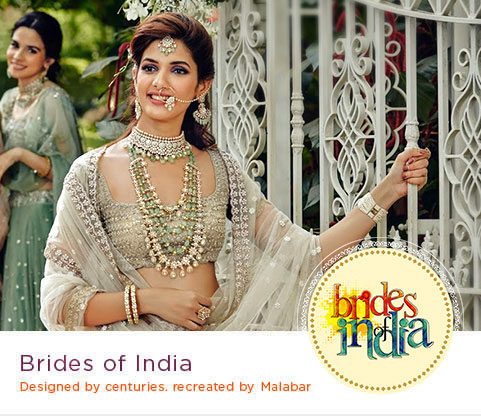 Malabar
Promise
Lifetime Product Service
Lifetime Product Service
We immensely value our customers, so for every purchase you make, we offer cost product services for lifetime as part of our strong customer-oriented approach. When you buy something from us, we make sure that it stays..
Read More
14 Days
Return
14 Days Return
Refund request can be done by informing our customer care team via email or call.
The 14 days refund policy is not applicable on Gold Coins; however our buyback policy is applicable for the same.
Read More
Only Certified
Jewellery
Only Certified Jewellery
Our 22KT gold jewellery boasts of 916 hallmark certification and 18KT gold jewellery items of 750 hallmark certification which includes five specific marks of authentication- Malabar Identification mark, Year of making,..
Read More
Product Detail
Pricing
Product Detail Pricing
Our objective is to disclose complete details of the product, purchased by the customer. We believe in transparency so we provide step by step price details of each product which includes gold charges,..
Read More
Easy
Exchange
Easy Exchange
This exclusive feature gives complete flexibility to our customers, in case they are not satisfied with the item bought from our online store. They may choose to return this product either to any of our store in India or at our online store.
Read More
Lifetime Product Service
14 Days
Return
Only Certified
Jewellery
Product Detail
Pricing
Easy
Exchange