Details
Free Shipping In India
Product Details
Brand Description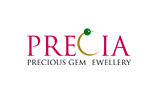 Precia Brand - Precious Gem Jewellery
Precious "Precia" gem jewellery is brand introduced by Malabar Gold and Diamonds for gemstones lovers all over the world. We present a graceful collection of gem jewellery for the woman today featuring a bright assortment of alluring designs, incorporating precious gems like red ruby, green emerald, yellow sapphire and blue sapphire crafted in pure 22K gold.
When it comes to jewellery, there are many ways a woman can express herself with Diamonds, sapphires, pearls the choices are of course endless but, none of them can symbolize the purity and the passion of a woman like emeralds and rubies. The vibrant colours, their shimmer, the fiery sparkle that shine within each gem reflecting dazzling and coruscating hues somehow just add to the unique magnetism of these precious stones.
Crafted in B.I.S. Hallmarked 22Kt gold jewellery, this magnificent collection features necklaces, bangles, earrings and rings which will surely enthrall everyone.
Precious gemstones from time immemorial have proved wonderfully fascinating to mankind.The exceptional value of gems depend simply upon their use as ornaments. With the ancients, their importance rested on very different grounds. They attributed to these peerless little objects the most extraordinary gifts. Emperors, kings, queens and other elite class of India used gem studded ornaments as a symbol of prestige and supremacy. Precious gemstone jewellery mirrors one's elegance through its unblemished gems like ruby, emerald and their other combinations.
A single fiery red ruby or a dreamy green emerald stone of our Precia collection is enough to take you to the spot light beholding to the beckoning beauty. This is our special token of perfection to let adorn the perfect and the finest jewellery. And this precious jewellery comes with lifelong free maintenance and buy back guarantee.