Gold Certification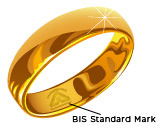 What is a Hallmark?

A hallmark is not a certified physical document but it is the official mark used and inscribed on each gold or silver product to ensure metal purity and is thereby a confirmation that it has been tested and checked.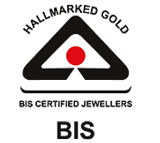 What is BIS Hallmark?

The government of India has initiated and declared the "BIS Hallmark" scheme to protect and certify the authenticity of Gold metal. Bureau of Indian Standards (BIS), is the acclaimed agency that certifies and hallmarks gold and silver jewelry since the year 1986.

The Hallmark scheme aims to protect the gold buyers against fraud of any sort, denotes the proportion of the gold content and also to set a legal standard. A Hallmark can be marked either by inscribing, punching, or laser.
What does it contain?

A BIS Hallmark contain all the required details of the precious metal.

How did BIS Hallmark come into existence?

In the year 1986,the R.B.I. Standing Committee on Gold and Precious Metals conceptualized the Hallmarking scheme that will assure gold purity, assist export on gold and protect gold buyers from fraud. Thus, the B.I.S. was named as the sole agency of India for hallmarking gold and silver under B.I.S.act provisions.
Why is it important?

• Protects from fraud.

• Lends credibility to purity of gold.

• Assists in gold exportation.

• Detects the genuinity of gold and recognizes percentage of alloy.

• Determines the price to be paid.

• Assures the quality.

• Adheres to international standard of purity.

The Indian jewelry industry considers BIS hallmarking as the highest proof of authenticity of gold.