Gold Buying Tips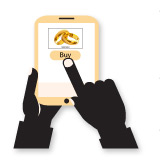 Always opt for a prominent jewelry brand with a trusting background as purchasing gold is not online for the sake of adornment but also an adornment.
The gold rate fluctuates on a daily basis, so it is important to check the ongoing rate before making a purchase.
Apart from yellow gold, rose gold and white gold are another two colors of gold. Intermix of metals is already creating a rage in the online market so, it is recommended to browse through the wide variety of products online before buying.
Always look up for BIS hallmark inscribed on the gold products to ensure the authenticity of the gold.
Do try out the customization option available on almost all of the online jewelry sites as it gives the liberty to design a product according to the customer's choice.
Inquiry about the shipment or delivery charges of the product is a must , as most of the online sites ensure free delivery.
When it comes to buying jewelry online, the size somehow tends to differ. It is advisable to go through the size guide provided by each site to avoid any sort of chaos.
Each individual jewelry site offers unique policies including refund policy, exchange policy, return policy, cancellation policy and insurance policy so choose a prominent online jewelry site to enjoy all the facilities provided.
Inspect the purity of gold by inquiring about the alloy or combination of other metals.