Malicious Campaign against Malabar Gold & Diamonds
A photograph showing couple of people participating in a cake cutting event as part of the Pakistan National Day has been spreading across social media platforms alleging that it belongs to Malabar Gold & Diamonds. We have noticed that a section of the media also carried this without checking the veracity of the photograph.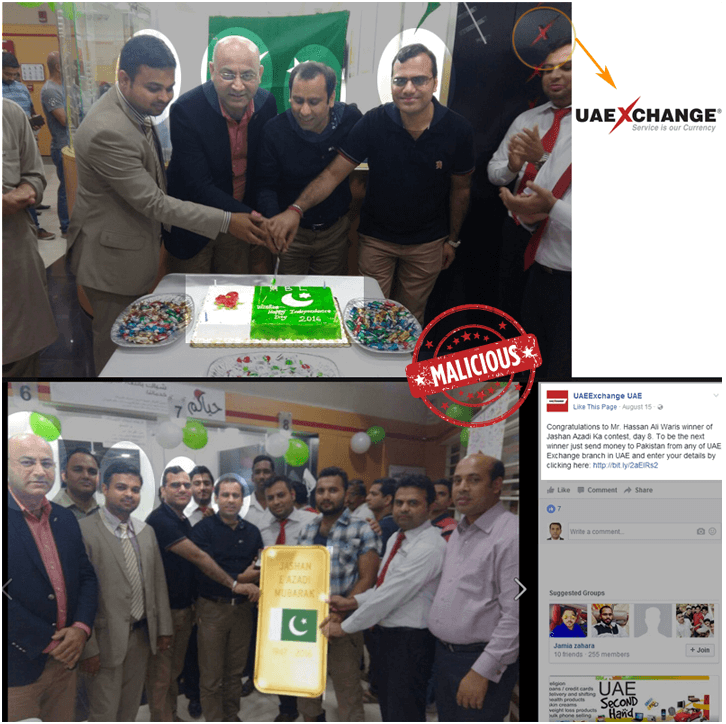 Photographs circulating in the name of Malabar Gold & Diamonds belong to another company
This photograph circulated belongs to UAE Exchange another Indian company with significant operations in the Middle East. One can even see the logo of the company (UAE Exchange) in the background of the photograph. Malabar Gold & Diamonds wishes to clarify that we are not in any way connected to this photograph and we request all to refrain from spreading such wrong information about a brand of global repute.
For Further Information Call:
Nikhil Harridan
+91 999 522 29 49
About Malabar Gold & Diamonds
Malabar Gold & Diamonds is one of the Worlds top 5 jewellery brands, with significant presence in India and GCC area. From its humble beginning in 1993 at Kozhikode (Calicut), Kerala, the brand has grown globally with 156 showrooms spread across 9 countries and 8,000 plus employees of Indian nationality.
Malabar Gold & Diamonds has been always an essentially Indian brand, it draws inspiration from India's rich cultural heritage and showcased Indian ethnic jewellery traditions to the World outside through its unmatched collections such as Brides of India. Within India, Malabar Gold is one among the highest tax paying jewellery retailers and it always maintained the highest level of transparency and honesty in all its business endeavours.
CSR Initiatives- An Overview
Malabar Gold & Diamonds is a responsible Indian corporate citizen that significantly contributes to the nation building through supporting State initiatives in segments such as Health, Education, Environment, Women Empowerment and Housing.
Key highlights:
Supported 5,60,000 citizens for their healthcare needs, from general medical conditions to complex surgical needs, including life-saving drug supplies, Rs. 28 cr. Disbursed so far towards this. Also run Mobile Medical clinics and extensive medical camps
Unique programs in education sector, 'Gurukul for Gurus' and 'Leading Schools' in association with IIM Kozhikode, 200 teacher scholarships in a single year
'Zero Waste=100 marks' campaign as part of the Green India initiative. 'Litter Free Kerala', 'Clean City' initiatives across major cities, 'Act Now Do Something' campaign
Waste disposal plant set up in association with the Kozhikode corporation
Rs. 20 million scholarships to 10,000 higher secondary girl students across Tamil Nadu every year. Another 5,000 academic scholarships to higher secondary girl students of Andhra Pradesh
'Prathyasha', and innovative program with Kerala Social Security Mission, Rs 50,000 financial aid to 2,000 girls to get married
Home for the Homeless, 9,988 homes built/supported construction for the homeless at a CSR spent of INR 24.21 cr.
Upcoming initiative for affordable homes, as part of Prime Ministers 'Home for All' drive
Malabar Housing Charitable Trust awarded by the Central Income Tax Department under the section 35 AC of the income tax Act, 1961 in honor of the best practices and support provided for the deserving homeless across India
Other Highlights
Employee friendly organization, job opportunity provided to 8000 plus unemployed in India and overseas
Scholarships for the children of Malabar Group staff for higher studies, 484 recipients so far
Support hundreds of artisans who makes India jewellery
Huge marketing initiative to promote Brides of India globally to promote Indian culture
Customer awareness programs that motivates insisting for tax bill and thus being part of country's economic stability
Support Make in India initiative, invested in many manufacturing units that makes Indian jewellery